I asked the question previously: If someone was out to destroy transgender acceptance, what would he be doing differently? I was referring to the University of Pennsylvania's 'transgender woman' swimmer Will Thomas, the male swimmer who 'transitioned' to female, goes by the name "Lia," and joined UPenn's women's swimming team, and won several Ivy League events. All of Mr Thomas' victories against real women carry with them the unwritten asterisk: a guy was beating up on girls. Now, we have another example:
'Tiffany' Thomas won a bike race. Photo via Daily Mail. Click to enlarge.

Tiffany Thomas, 46, dominated the field in an NYC cycling race at the weekend

She took up the sport aged 40 before quickly finding success

by Will Potter | Wednesday, March 22, 2023 | 9:24 PM EDT | Updated: Thursday, March 23, 2023 | 8:10 AM EDT

A transgender cyclist won first place at a female race in New York City amid ongoing debates over the inclusion of trans athletes in female competitions.

Tiffany Thomas, 46, who was born male, ended the Randall's Island Crit cycling race atop the podium, blowing the competition out of the water to snatch first place.

Despite only taking up cycling in 2018, Tiffany quickly found success and has dominated competitions in the years since. She recently landed a place on top cycling team LA Sweat, where her oldest teammate is just 32.
There's more at the original, and it is not hidden behind a paywall, so you can read it anytime. While my website, The First Street Journal, always uses the pronouns which refer to a person's biological sex, and proper name at birth if we can fine it, when it comes to the 'transgendered,' I do not change the direct quotes of other sources.
The Pico family love watching European bicycle races, at least as much for the scenery as the races themselves; they're like vicarious vacations, and the recently completed men's and women's road races starting and also ending in Siena, Italy were certainly special, as we saw places we've personally been.
While the number of 'trangender women' participating in women's sports has been small, and make a mockery of them trying to actually fit in as the women they claim to be, what about those who don't take actions which differentiate themselves from real women? Jaron Bloshinsky, now known by the fake name Jazz Jennings, tried being a girl from well before puberty, with the assistance of his parents. Through the use of 'puberty blocking' medications, young Mr Bloshinsky never went through male puberty, as Will and 'Tiffany' Thomas did, trying, with the guidance of his 'parents,' to avoid the differentiation from girls that male puberty would have made much more obvious. Thanks to a tip from Robert Stacy McCain, I found this article, one definitely not in the credentialed media, since they have swallowed transgenderism hook, line, and sinker:
By Megan Fox | Tuesday, March 21, 2023 | 9:45 AM EDT

There are a lot of deeply disturbing and unlikeable members of the trans cult. Jazz Jennings is not one of them. He was transitioned by his mother at the tender age of five. By the age of eleven, Jazz was on puberty blockers. At 17, even though a minor, Jazz underwent multiple genital surgeries to remove his penis and have it inverted. This process was botched and several attempts were made to remedy it, but the reduced size of Jazz's penis due to years on puberty blockers made an already brutal surgery even worse.

Jazz has since suffered from mental illness, rapid weight gain, pain, constant reflux, a lack of sex drive, an inability to orgasm, and anxiety. And not unlike the Truman Show, it all happened in front of the cameras for a global audience. Were Jazz to want to escape from this reality, there is nowhere he could go where he could begin again in private, away from prying eyes.

Jazz has now broken down (on camera, of course) and spilled his heart to his mother that, despite it all, he doesn't feel like himself. It is a moment many of us saw coming but hoped for the sake of this severely traumatized and abused child wouldn't. God help everyone involved in this unspeakable crime that was done to this innocent person who is suffering in front of us all.

"I really want to understand myself and be able to read my own soul… I just want to feel like myself. All I want is to be happy and feel like me and I don't feel like me ever!" Jazz cried.
Young Mr Bloshinsky was given every possible advantage in his 'transition': not going through male puberty, parents who were supportive of his attempt to change sex, a manipulated for television interaction with real girls as friends, and plenty of money for the family thanks to the TLC television show "I am Jazz," he doesn't feel the way he believes he should feel, despite all of the hormones and despite the 'sexual reassignment' surgeries he has had. "Jazz" does not really feel like the girl he thinks he is because he really isn't a girl.
Mr Bloshinsky had a boob job, giving him artificial 'female' breasts, but fake boobs are not real boobs. He had his pre-pubescent penis 'inverted' to create a simulacrum of a vagina, but it's nothing like a real one. He had to have more than one surgical intervention, because things just didn't turn out well.
For a 'transgender woman,' the faux vagina must be dilated regularly, or it will begin to close up, because his body is still male, and as a male, it sees that 'vagina' as an open wound, and tries to heal it. He gained a hundred pounds, when the rest of his family are not obese, because he's just not what he believes he should be.
Back when Jazz was eleven and on Barbara Walters, his mother said, "Jazz is a happy transgender kid, and you never hear those words in the same sentence." But now, Jazz is anything but happy. The last several years have proven to be monstrous in many ways for Jazz. Jeanette broke down in a recent episode, recounting the discussions she had with medical professionals who told her that Jazz was at risk for suicide if she didn't allow him to transition. "Do you want a live daughter or a dead son?" they said.
Really? While we cannot know what the future holds for Mr Bloshinsky, Kentucky state Senator Karen Berg, who is a physician, supported her daughter's attempt to transition into a male, and she still killed herself. Sometimes, the total truth must be told, even if the truth is unpleasant. I will admit it: I have been called an [insert slang term for the anus here], but sometimes you need an [insert slang term for the anus here] to get around political correctness or misapplied courtesy to just tell the truth.
We all knew it would happen sooner or later: those of us who are smart enough to reject the cockamamie idea that girls can be boys and boys can be girls are being blamed for the death by suicide of "Henry" Berg-Brousseau. From what my, sadly now departed, best friend used to call the Lexington Herald-Liberal:
by Tessa Duvall | Tuesday, December 20, 2022 | 4:14 PM EST | Updated: 4:20 PM EST

Kentucky Sen. Karen Berg, D-Louisville, announced in a statement Tuesday that her son, who was transgender, died by suicide last week.

Henry Berg-Brousseau was 24.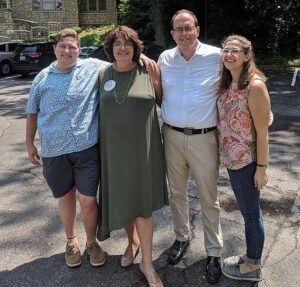 Note that the Herald-Leader uncritically wrote that Senator Berg's daughter was her son. As is so often the case, the newspaper's stylebook calls for referring to the 'transgendered' by the gender they claim to be, not the sex they actually are, and the use of the preferred 'pronouns' and faux name they chose. All of this is subtly designed to be courtesy, but also to normalize 'transgenderism' as something real.
Berg said her son spent his life "working to extend grace, compassion and understanding to everyone, but especially to the vulnerable and marginalized."

"As the mother of a transgender son, I gave my whole heart trying to protect my child from a world where some people and especially some politicians intentionally continued to believe that marginalizing my child was OK simply because of who he was," Berg wrote. "This lack of acceptance took a toll on Henry. He long struggled with mental illness, not because he was trans but born from his difficulty finding acceptance."
Yes, Miss Berg-Brousseau "long struggled with mental illness," but Senator Berg, who is a physician, doesn't think that her daughter thinking that she was really a boy had anything to do with it. Much further down:
"In one of our last conversations he wondered if he was safe walking down the street," Berg wrote. "The vitriol against trans people is not happening in a vacuum. It is not just a way of scoring political points by exacerbating the culture wars. It has real-world implications for how transgender people view their place in the world and how they are treated as they just try to live their lives."
I have included a photo of the Berg-Brousseau family. In it, "Henry" — I have been unable to find her real name — is shown, seemingly shorter than her mother and sister, and certainly shorter than her father, as well as significantly overweight. Were she an actual boy who grew up that way, "he'd" have been the last picked for a team in Phys Ed, and been dateless as high school girls, real girls, would have rejected "him" for more masculine guys. As an adult, she might somehow 'pass' as a male, if no one asked any questions, but she'd have been the least impressive of 'guys'.
Dr Berg claimed that Miss Berg-Brousseau believed that she was at risk, I assume from violence, walking out in public, but, in the end, the person from whom she wasn't safe was not evil tormenters, but from herself. Had she been an actual boy who grew up to look the way she looked, she'd have had to get used to the kinds of insults that all boys growing up not masculine enough hear. But Dr Berg wants to blame her daughter's suicide on people who recognize that her "transgender son" was actually her daughter, and refused to lie about it.
This, you see, is what the left want, for sensible people to be guilted into accepting something that they know to be false, to accept the mental illness of gender dysphoria as somehow being not a delusion but normal. More, they want sensible people to lie out loud, to call the 'transgendered' by their preferred pronouns and names, when that would be lying to others and to themselves. To me, the proper response is to not get involved in any way with the 'transgendered,' to not have to choose between going along with their delusions or angering them in public, but simply to ignore them as much as we can, as long as it has no effect on ourselves and society.
Like Mr Bloshinsky, Miss Berg-Brousseau was deeply unhappy, unhappy enough to have committed suicide. Senator Berg obviously preferred the first option to the question, "Would you rather have a live son or a dead daughter," but still wound up with a dead child. Going along with her daughter's delusions, supporting those delusions apparently every step of the way still didn't help.
"The truth will set you free," we have been told. One thing is obvious: not telling the truth, to Mr Bloshinsky and Miss Berg-Brousseau, didn't help them. Human beings lie, for all sorts of reasons, and in the case of the 'transgendered,' many of those lies are told so as to not hurt someone's feelings.
But biology doesn't lie, and scientific fact doesn't lie. We shouldn't lie about 'transgenderism,' because in the end, the truth will always assert itself.
__________________________________
Follow me on Twitter! Check out my website, The First Street Journal, for stories not on American Free News network.
_________________________________
Follow AFNN: