There are times I think that I've written on the subject of 'transgenderism' too frequently, but it keeps coming up in the news. I wouldn't care if Jack wanted to call himself Jill, if the 'transgendered' weren't trying to use the power of the state to force other people to go along with their delusions.
You will not find this story many places, and certainly not in the leftist part of the credentialed media. From the New York Post:
By Hannah Grossman , Fox News | Friday, July 7, 2023 | 3:31 PM EDT | Updated

A California school district suspended two children for five days after a misgendering incident took place, and then subjected them to a training called "restorative justice," according to an email reviewed by Fox News Digital.

The email was sent by a recently departed principal of Herbert Hoover High School located in the Glendale Unified School District. It was first reported by GUSD Parents Voices.

The former principal, Jennifer Earl, described two students who misgendered a transgender student, and then ran away as the teacher attempted to correct them.
There's some disagreement here. The Post story states that the students correctly referenced a student's sex "misgendered a transgender student," but the local Fox 11 report has the suspended student "misgendering" a teacher.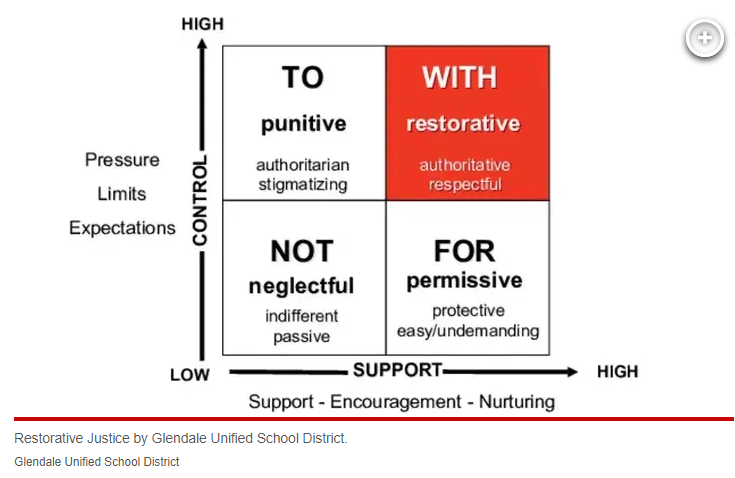 So, what is "restorative justice" in the Glendale United School District? The district has a handy graph of its system, as shown in a photo in the Post. It has "Control" on one axis, defined as "Pressure Limits (and?) Expectations", which can only mean that the district believes that, in the case of "restorative justice", high pressure is acceptable, as long as it is accompanied with high levels of "Support – Encouragement – Nurturing".
Further down:
GUSD explained to Fox News Digital that they make determinations if a misgendering – generally defined as using the wrong pronouns – is considered bullying based on whether a student's perceived intent.

"A student has never been punished, much less suspended, for accidentally using the wrong pronoun to refer to a peer or staff member. However, a student could be suspended if the action escalated to harassment or bullying," a spokesperson said.
Translation: if we assume that the school district's spokescritter is telling the truth, the district decided that the "action escalated to harassment or bullying".
Now we get to the district's definition of a re-education camp "restorative justice"
The district's website explains restorative justice on its website.

Restorative justice is a re-education of students and gaining control over a situation based on the perceived wrongs they committed.
So, even the district uses the term "re-education". Got it!
First the person making the restorative justice circle will ask "barrier breaking" questions, such as:

"What is the greatest value that guides your life?"

"What gives you the most security?"

"If you could smash one thing… what would you smash?"
If I could smash one thing, it would be the cockamamie idea that girls can be boys and boys can be girls.
"Describe the ideal family."
Simple: a mother and father, married to each other, living with and rearing their minor children. Anything else, anything else, is less than ideal. This is the system which successful human societies have had for as far back into the past as we have any real knowledge of human sociological structures.
The district's website continues, "When there is harm or conflict within the established community, restorative responses help to repair the damage. This is done through processes that bring harmed and harmers together to address root causes of the conflict, support accountability for those responsible, and promote healing for impacted individuals. As a result, community is once again restored bringing back a sense of belonging to all."
So, "restorative justice" exists when the "harmed and harmers" are brought together, but note the rest: "to address root causes of the conflict, support accountability for those responsible, and promote healing for impacted individuals." Simply put, "restorative justice" cannot be achieved unless the two students who correctly recognized the 'transgender' person's sex who "misgendered" someone agree that the Special Snowflake™ person they correctly referenced "misgendered" is actually the sex the transgender individual claims to be rather than the sex they actually are, and say that they are oh-so-sorry.
Simply put, the Glendale Unified School District is teaching that transgenderism is real, that a person actually can change his 'gender,' and if you decline to go along with that notion, you will be punished.
Remember how we have been told that the government may not establish a religion? Well, the Catholic Church, the majority of Protestant Christian denominations, Judaism, and Islam all agree that transgenderism is not something with which their faiths agree, yet the Glendale Unified School District, apparently as required by law in California, are teaching something major which is against the religious faiths of most Americans.
__________________________________
Follow me on Twitter! Check out my website, The First Street Journal, for stories not on American Free News network.
________________________________
If you enjoyed this article, then please REPOST or SHARE with others; encourage them to follow AFNN. If you'd like to become a citizen contributor for AFNN, contact us at managingeditor@afnn.us Help keep us ad-free by donating here.
Truth Social: @AFNN_USA
Facebook: https://m.facebook.com/afnnusa
Telegram: https://t.me/joinchat/2_-GAzcXmIRjODNh
Twitter: https://twitter.com/AfnnUsa
GETTR: https://gettr.com/user/AFNN_USA
CloutHub: @AFNN_USA